Faserlaser-Metallschneidemaschine Raycus Laser Power
| | |
| --- | --- |
| Einheitspreis: | 10000~35000 USD |
| Minimum der Bestellmenge: | 1 Set/Sets |

| | |
| --- | --- |
| Verpakung: | 1.Antikollisionspaketkante: Alle Teile der Maschine sind mit einigen weichen Materialien bedeckt, hauptsächlich mit Perlenwolle 2.Begasungsholzkiste: Unsere Holzkiste wird begast, muss das Holz nicht überprüfen, wodurch die Transportzeit gespart wird . 3. |
| Transport: | Ocean |
| Versorgungsmaterial-Fähigkeit: | 100 Set/Sets per Month |
| Hafen: | Qingdao,Shanghai,Ningbo |
Produktbeschreibung
Faserlaser-Metallschneidemaschine Raycus Laser Power
Merkmale:
Fasermetall-Laserschneidmaschine Das Bett verfügt über eine Gantry-Doppelantriebsstruktur, importierte Schraubenstangen und lineare Führungsschienen, eine stabile Übertragung, hohe Präzision und Online-Rotation des Wälzfräsens, was eine hohe Effizienz, hohe Qualität, Zeit- und Arbeitsersparnis von Material gewährleistet Verarbeitung, Verbesserung der Materialausnutzung.

1. Doppelverwendung von Metallrohr und -platte
Um den immer komplexer werdenden Bedürfnissen der Verbraucher gerecht zu werden, ist JINGXUN auf die Marktnachfrage ausgerichtet, unabhängig entwickelte LF3015-Laserfaserschneidmaschine mit integrierter Blech- und Rohrtechnologie, eine Maschine mit doppeltem Zweck, diese Maschine löst doppelte Schneidanforderungen auf einmal.
2. Klemmendesign
Es nimmt auf beiden Seiten ein elektrisches Klemmendesign an und kann die Mitte automatisch modulieren. Der diagonal einstellbare Bereich beträgt 20-200 mm.
3. Plattform austauschen
Es nimmt eine Auf- und Ab-Austauschplattform an, und der Umrichter ist für die Steuerung des Austauschmotors verantwortlich.
Die Maschine ist in der Lage, den Plattformwechsel innerhalb von 15 Sekunden abzuschließen.
4. Luftfahrt-Aluminiumportal der 3. Generation
Es wird nach Luft- und Raumfahrtstandards hergestellt und durch 4300 Tonnen Pressextrusion geformt. Nach der Alterungsbehandlung kann seine Stärke 6061 T6 erreichen, was die stärkste Stärke aller Portale ist. Luftfahrtaluminium hat viele Vorteile, wie gute Zähigkeit, geringes Gewicht, Korrosionsbeständigkeit, Antioxidation, geringe Dichte und erhöht die Verarbeitungsgeschwindigkeit erheblich.
5.Doppelnutzung und Kosteneinsparung
Die Faserlaserschneidmaschine LF3015 kann nicht nur Metallplatten, sondern auch Metallrohre schneiden. Es ist vielseitig einsetzbar und kann mehr als 50% Platz sparen, was die Produktivität effektiv verbessert.
6. Teilweise automatische Unterstützungsinstallation
Es verwendet ein intelligentes Rohrstützdesign, das die Verformungsprobleme beim Schneiden langer Rohre lösen kann.
Anwendung:
Anwendbare Materialien für Laserschneidmaschine für Metall:

Faserlaser-Schneidgeräte eignen sich zum Schneiden von Metall mit Edelstahlblech (Rohr), Flussstahlplatte (Rohr), Kohlenstoffstahlblech (Rohr), legiertem Stahlblech, Federstahlblech (Rohr), Eisenplatte (Rohr), Galvanisiertes Eisen (Rohr), verzinktes Blech, Aluminiumplatte (Rohr), Kupferblech (Rohr), Messingblech, Bronzeplatte, Goldplatte, Silberplatte, Titanplatte, Blech, Metallplatte, Rohre und Rohre usw.

Anwendungsbranchen :

Faserlaser-Schneidemaschine ist weit verbreitet in der Herstellung von Billboard, Werbung, Schildern, Beschilderungen, Metallbuchstaben, LED-Buchstaben, Küchenartikeln, Werbebriefen, Blechbearbeitung, Metallkomponenten und -teilen, Eisenwaren, Chassis, Racks & Cabinets Processing, Metallhandwerk, Metallkunstwaren, Zuschnitt von Aufzugsplatten, Hardware, Autoteile, Brillengestell, elektronische Teile, Typenschilder usw.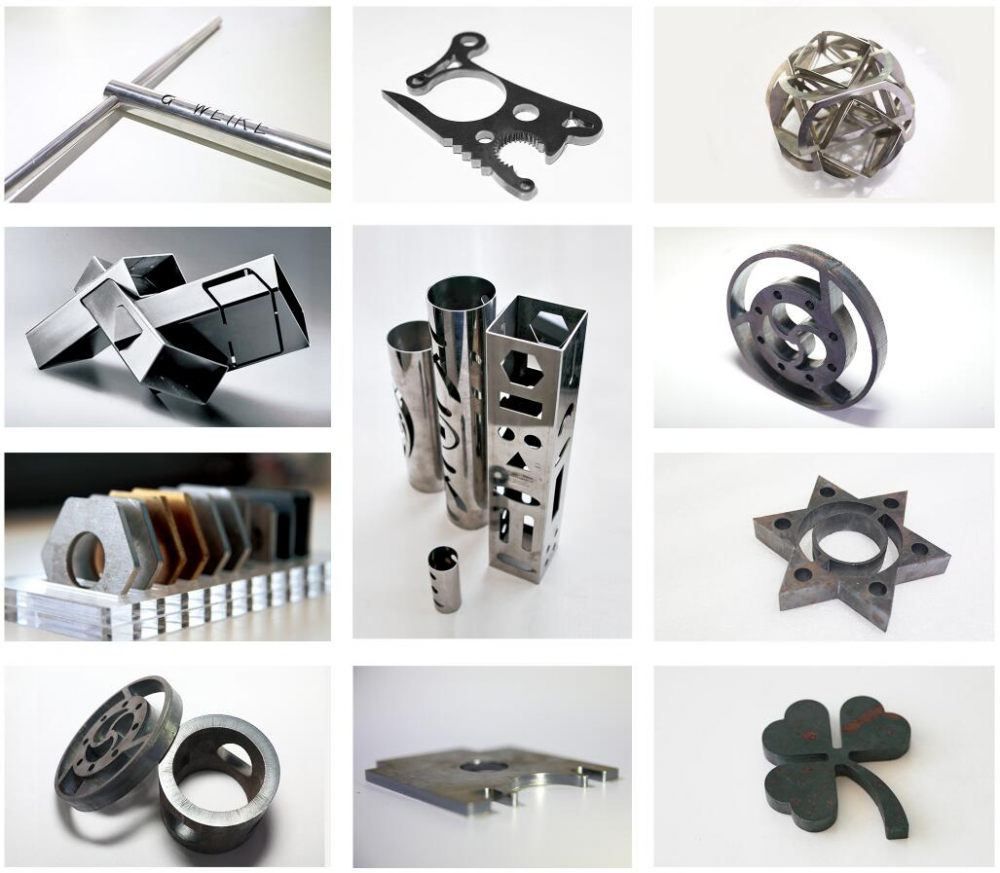 | | |
| --- | --- |
| Machine model | JX3015 |
| Laser type | Import original fiber laser |
| Laser power | 1000W/2000W/3000W/4000W |
| Weight | 7800kg |
| Dimensions | 4440mm×2500mm×1860mm / 7800x3580x2150mm |
| Working area | 3000×1500mm/4000mm*2000mm |
| Repeat positioning accuracy | ±0.02mm |
| Maximum speed | 80m/min |
| Maximum acceleration | 1.5G |
| Transmission | Double driver rack gear |
| Power consumption | <10KW |
| Power supply | 380V/50Hz/60Hz/60A |
Aufbau: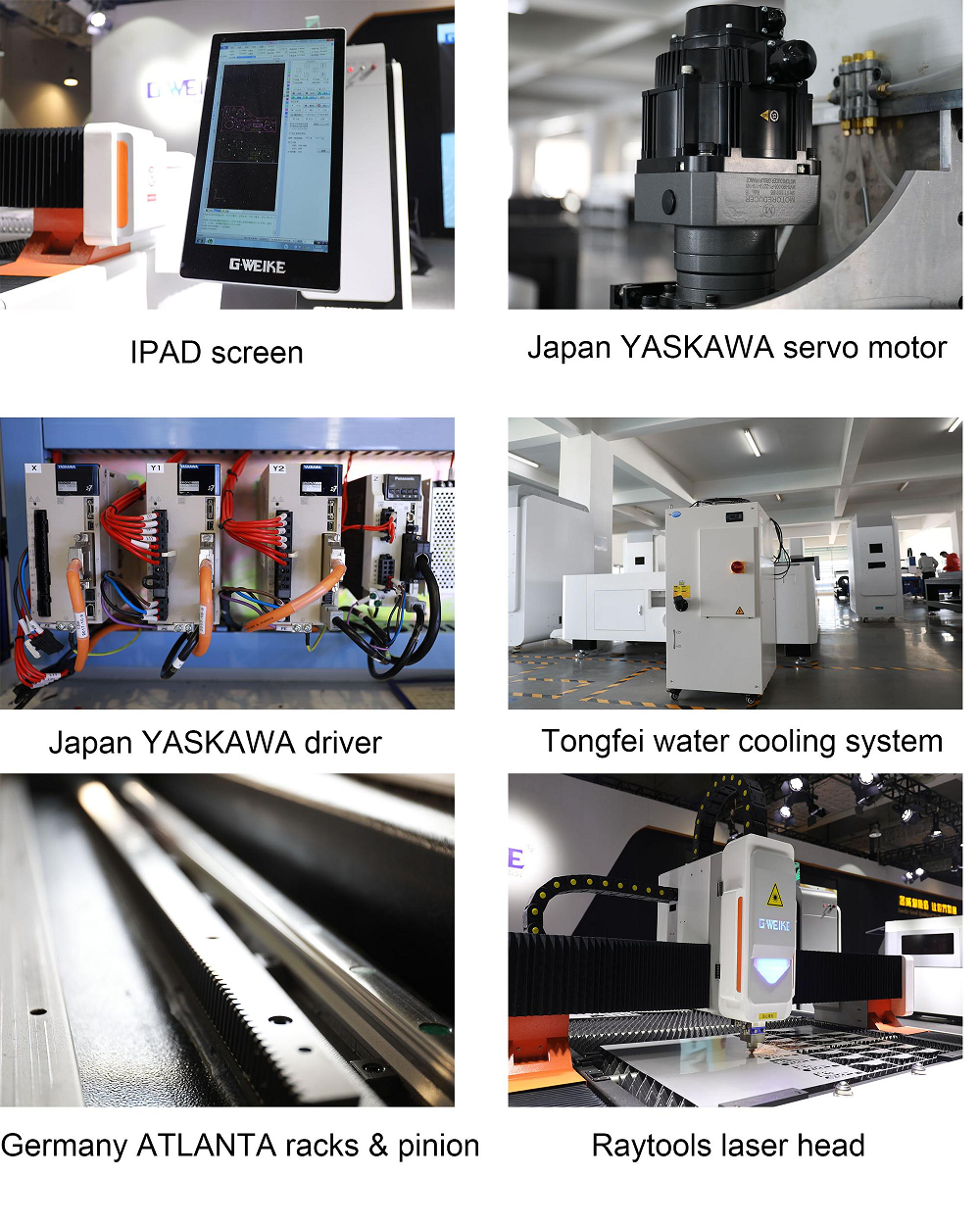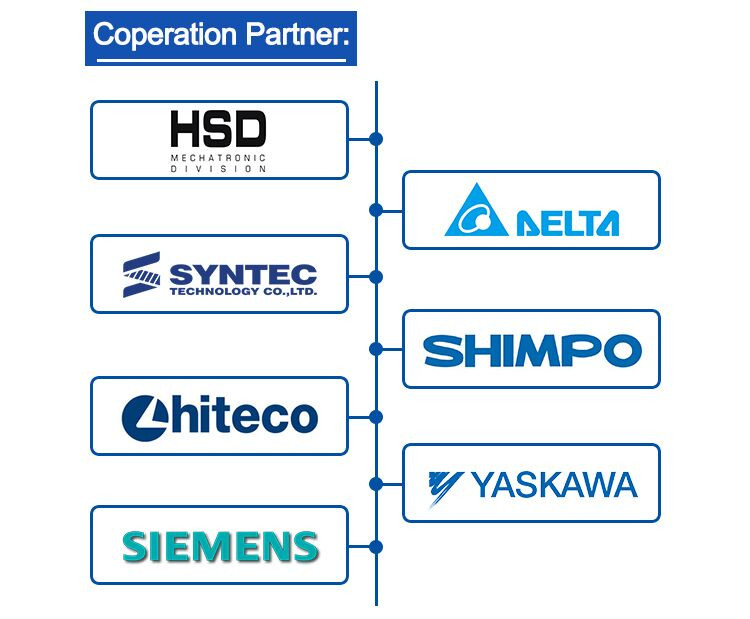 Versand: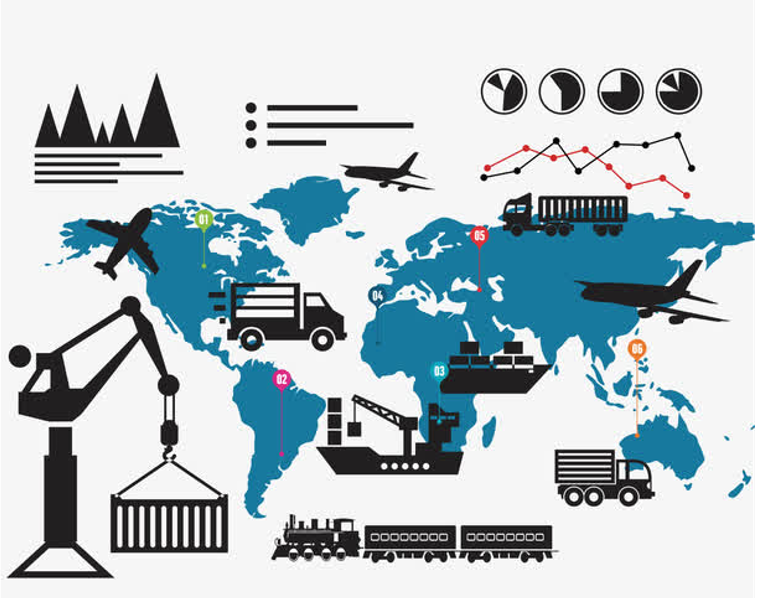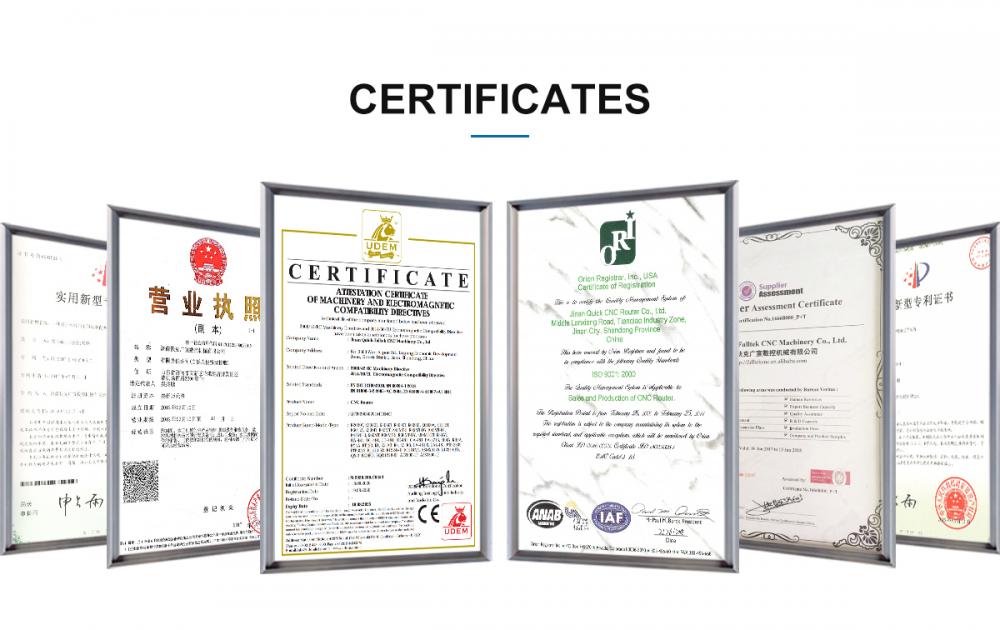 Qualitätskontrolle:
Qualität ist unsere oberste Mission, die die Lebensader des Unternehmens untermauert, und der wichtigste Faktor, um langfristige Geschäftsbeziehungen zu unseren Kunden zu pflegen. Besonderes Augenmerk wird auf die Qualität jeder Einheit der Faserlaserschneidmaschine gelegt . Standard-Qualitätskontrollsystem und -team sind dafür verantwortlich, die Produktqualität in jedem Prozess mit verschiedenen Instrumenten wie Laserinterferometer und Laserleistungsmesser sicherzustellen. Das Laserinterferometer und der Laserkollimator werden durch den mechanischen Montageprozess verwendet. Beim Lasermontageprozess werden der Laserleistungsmesser und das optische Mikroskop verwendet.
Firmeninformation: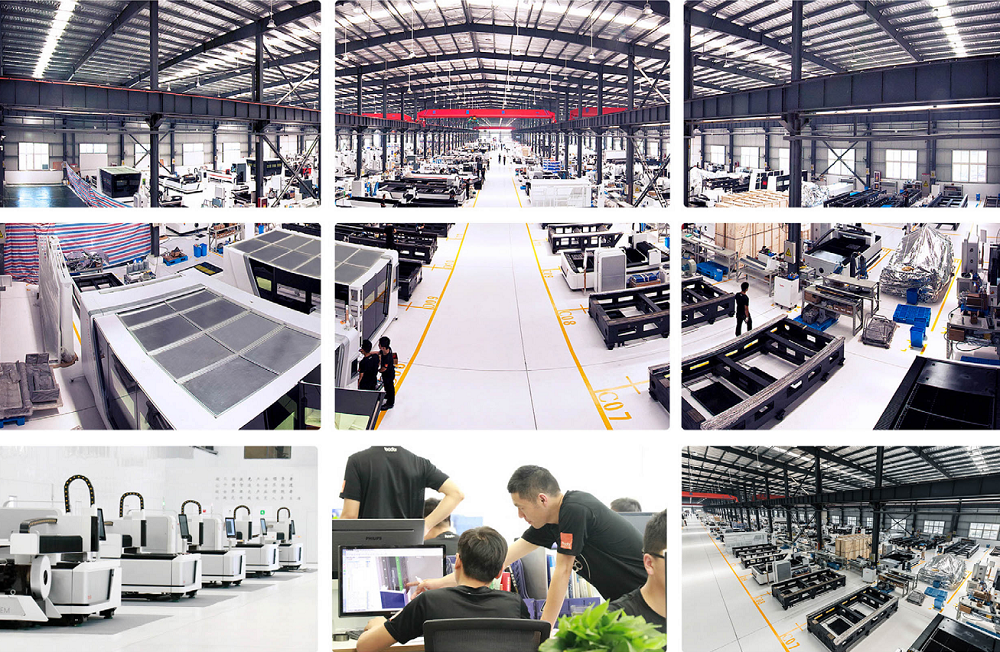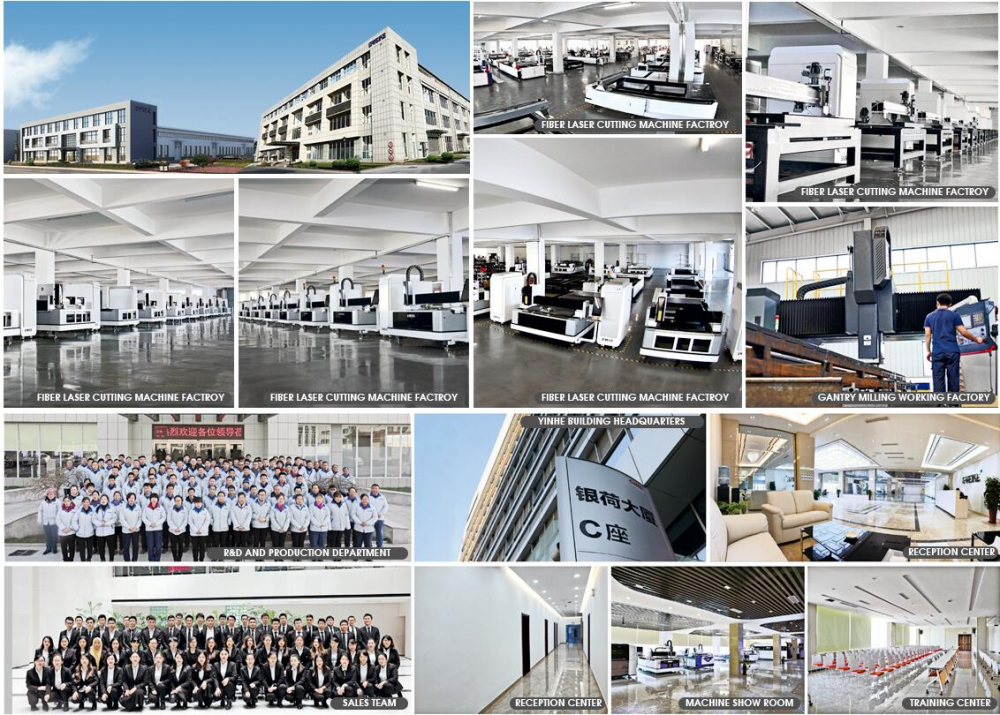 Die Hauptprodukte unseres Unternehmens sind Faserlaserschneidmaschinen, Metall- und Nichtmetall-Laserschneidmaschinen, CO2-Laserschneidmaschinen, Lasergraviermaschinen, CNC-Router usw. Unsere Maschinen können zum Schneiden oder Gravieren aller Arten von Materialien wie Kohlenstoffstahl, Siliziumstahl, Edelstahl, Aluminiumlegierung, Titanlegierung, verzinktes Blech, Holz, Acryl, Bambus, Jade, Kristall, Kunststoff, Stoff, Papier, Leder, Gummi, Keramik, Glas und andere metallische oder nichtmetallische Materialien. Nach 13 Jahren Entwicklung haben wir die internationale Zertifizierung von Qualitätssicherungssystemen ISO90001 und die CE-Zertifizierung der Europäischen Union bestanden.

Heute beschäftigt das Unternehmen rund 180 Mitarbeiter, die meisten mit Bachelor-Abschluss, um unsere hohe Qualität und professionellen Service zu gewährleisten. Jedes Jahr verkaufen wir mehr als 1500 Sets Maschine in die USA, Kanada, Australien, Europa, Südostasien, Afrika und andere 70 Länder und Gebiete. Wir liefern auch OEM-Service für mehr als 10 ausländische Hersteller.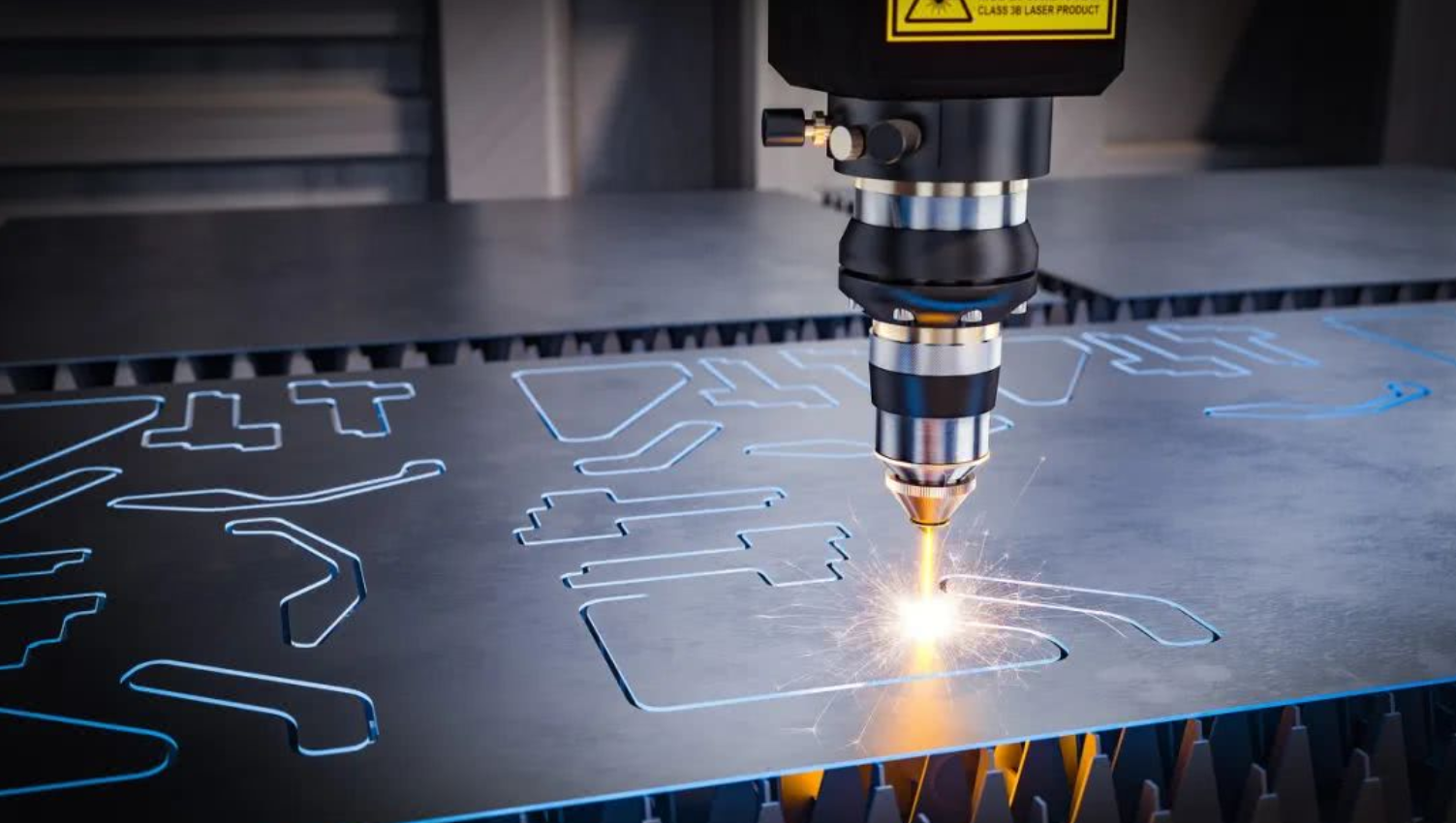 FAQ:
Sehr geehrte Damen und Herren, um Ihnen die am besten geeignete Maschine mit der besten Qualität und dem besten Preis zu empfehlen, kontaktieren Sie mich bitte mit den folgenden Fragen. Unsere professionellen Dienstleistungen werden Sie zufriedenstellen!
Q1.Wie erhalten Sie die am besten geeignete Maschine und den besten Preis? Bitte geben Sie das Material an, an dem Sie arbeiten möchten?
Wie daran arbeiten? Gravur? Schneiden? Oder andere ?
Was ist die MAX-Größe dieses Materials? (Länge? Breite? Dicke?)
F2: Was ist die Schnittgröße dieser Maschine?
A: 1500 * 3000 mm Für Platten und Rohre kann es auch nach Bedarf angepasst werden.
Durchmesser: 20-215 mm, maximale Länge 6 m Rund-/Vierkantrohr.
F3: Ist die Schnittgeschwindigkeit des Rohres die gleiche wie die der Schneidplatte?
A: Die Schnittgeschwindigkeit ist ähnlich, die maximale Schnittgeschwindigkeit beträgt 60 m/min.
Q4.Wenn wir nicht wissen, wie man die Maschine benutzt, können Sie uns das beibringen?
Ja, wir werden, wenn Sie nach China kommen, bieten wir Ihnen kostenlose Schulungen an, bis Sie die Maschine frei verwenden können. Und wenn Sie beschäftigt sind, haben wir den Spezialingenieur für Ihr Land, aber Sie müssen eine Gebühr wie Tickets tragen und Hotel und Essen.
F5.Wenn während des Garantiezeitraums Probleme mit diesem Gerät aufgetreten sind, was soll ich tun?
A: Wir liefern kostenlose Teile während der Maschinengarantiezeit, wenn die Maschine Probleme hat. Inzwischen bieten wir auch einen kostenlosen After-Sales-Service für die gesamte Lebensdauer der Maschine. Wenn Sie also Fragen haben, lassen Sie es uns einfach wissen, wir werden Ihnen so schnell wie möglich Lösungen anbieten.
F6.Als ich diese Maschine bekommen habe, aber nicht weiß, wie man sie benutzt. Was sollte ich tun?
Wir senden englisches Handbuch und Betriebsvideo und für die Maschine. Unser Ingenieur wird Online-Schulungen durchführen. Bei Bedarf können wir unseren Techniker zur Schulung zu Ihnen vor Ort schicken oder Sie können den Bediener zur Schulung in unser Werk schicken.
Q7.Wie sieht es mit den Zahlungsbedingungen aus?
Allgemein verwenden wir 100% T/T, 30% T/T im Voraus +70% T/T nach Überprüfung von Video und Bildern vor dem Versand.
Handelsversicherung von Alibaba.Western Union
Q8: Wie lange ist Ihre Lieferzeit?
A: Im Allgemeinen ist es ein Wochentag, wenn die Ware auf Lager ist. oder es ist 15 Werktage, wenn die Ware nicht auf Lager ist, es ist entsprechend
zu Quantität.
F9: Pro, bitte beachten Sie, dass der Preis dieser Maschine nicht den Generator beinhaltet, da wir die Produktanpassung unterstützen, unterschiedliche Generatorpreise nicht gleich sind. Für weitere Informationen können Sie uns gerne kontaktieren.
Jinan Jing Xun Cnc Equipment Co., Ltd
Corporate culture: focus on quality, focus on service, and create value for users wholeheartedly.
Corporate philosophy: customer-centric, struggling-oriented.
Enterprise innovation: technological innovation, product innovation, service innovation, concept innovation, and management innovation.
Enterprise core competitiveness: product leadership, innovation-driven, collaborative services.
Corporate vision: Let users feel at ease, let employees be happy, and make operations sustainable.
Since its establishment, Jinan Jingxun CNC Equipment Co., Ltd. has adhered to the core values ??of independent research and development, innovation and entrepreneurship, honesty and pragmatism, adhering to the work philosophy of professionalism, focus, and research, in-depth understanding of customer demands and opinions, continuous innovation of products, and high-tech and Efficient management creates economic benefits, and is committed to becoming a company that provides excellent services to customers and creates rich returns.
We are an enterprise focusing on the development, manufacturing and production software development and application of automated CNC equipment. Relying on the company's independent research and development capabilities, we have independently developed CNC drilling and milling engraving machines, CNC panel furniture cutting machine production lines, and CNC metal laser cutting machines. , CNC non-metal laser cutting machine and other series of products, relying on independent research and development products to accumulate customer base.
The main classification of CNC engraving machine: woodworking engraving machine, tombstone engraving machine, laser engraving machine, advertising engraving machine, jade engraving machine, stone engraving machine, cylindrical engraving machine, mold engraving machine, micro engraving machine, circuit board engraving machine, metal engraving machine, glass engraving machine, five-axis machining center, large Non-standard numerical control equipment and other products.
Our customer groups cover: advertising industry, craft industry, mold industry, electronics industry, construction industry, printing and packaging industry, wood industry, decoration industry, tombstone industry, crystal products, copper and aluminum door flower carving, aluminum villa door carving, car model , Ceramic bathroom, large-scale exterior wall aluminum veneer cutting, hardware molds, plastic molds, hand mold engraving, fixtures, fixtures and fixtures, woodworking, wooden doors, stone lettering, ceramic tile background wall engraving and other industries.
We focus on building smart factories in the furniture industry. Our products include panel-type furniture smart factories, whole-plant information software, control systems, CNC cutting machines, automatic computer panel saw series products, automatic linear edge banding machine series products, CNC Drilling series products, six-sided drills, a full range of five-axis three-dimensional machining centers, various heavy-duty high-speed cutting machines, straight-line cutting machines, disc cutting machines, automatic labeling drilling cutting centers, custom cabinets A professional manufacturer of woodworking CNC machining center products such as intelligent hole feeder, cabinet intelligent connection, cabinet closet molded door line, multiple six-sided drill cutting machine connection, production process planning and design, solid wood assembly processing center, etc.
Woodworking machinery and equipment such as machining centers of different specifications and models such as four-process cutting machines.
The main uses of laser processing technology are divided into three types: laser cutting, laser engraving, and laser welding. The main application machines on the market are
Laser cutting machine, metal laser cutting machine, fiber laser cutting machine, CNC laser cutting machine, laser marking machine, laser welding machine and a series of products
Suitable for high-precision cutting of various metal materials such as stainless steel, carbon steel, brass copper alloy steel, silicon steel, spring steel, aluminum, aluminum alloy, galvanized sheet, galvanized sheet, pickling sheet, titanium and other metal plates and pipes .
Fiber laser cutting machines are used in sheet metal processing, environmental protection equipment, chassis, electric cabinets, agricultural machinery, kitchenware and bathroom, auto parts, sports equipment, lighting lamps, metal crafts, fans, electrical parts, communication equipment, food machinery, logistics equipment, hardware, Doors and windows, advertising sign production, mechanical parts, automobiles, machinery, metal crafts, saw blades, electrical parts, glasses industry, springs, circuit boards, electric kettles, medical microelectronics, knife measuring tools and other industries.
We are one of the few manufacturers in the world that can carry out professional smart factory whole-plant planning and provide relevant complete sets of equipment and software, and incorporate customization into large-scale production. Our technology can help you quickly transform ideas and designs into products in a simpler way, with lower investment and less time, improve your industrial automation level, get rid of the dependence on skilled workers, and effectively improve management efficiency And production efficiency.
professional service
Our quality standard positioning is synchronized with Europe and the United States. The product accessories adopt international brand parts, international brand configuration, stable performance, Japanese guide rail: three-layer dustproof, self-lubricating slider device, ensuring the machine runs 5000 kilometers without maintenance
German rack: stable transmission, low noise, large transmission torque, Japanese reducer: low noise, high transmission accuracy, German vacuum pump, French electrical components, Italian spindle, row drill,
Cooperate with global advanced CNC machinery operating system manufacturers: Japan FANUC Germany SIEMENS Taiwan SYNTEC Taiwan LNC US MACH3 China NCSTUDIO China FSCUT Fiber laser cutting control systerm.
Product advantages
We are one of the few companies in the world that use CNC machining equipment to process all mechanical parts. Strict production process: from the selection of raw materials, welding and casting, shot blasting, heat treatment annealing, stress relief, pickling, phosphating, precision machining, the large gantry machining center performs milling and numerical control drilling on the guide rail table, rack surface, etc. A series of processes such as sheet metal production, spraying, assembly, inspection and calibration are all independently produced, and the basic accuracy of accessories is guaranteed through the above processing.
The entire process flow is strictly tested in accordance with the international assembly level to cooperate with the advanced processing and assembly technology, and there are strict process quality inspections, geometric accuracy testing: the inspection mode of metal processing machine tools is used in the industry to ensure that the machine tools meet the accuracy requirements.
Position accuracy detection: to ensure that the diagonal error of the processed object is smaller and the surface of the object is smooth. Machine tool inspection: Simulate the operation of the machine tool to further ensure the state of the machine tool. Through rigorous triple inspection, the machine has stable performance and high processing accuracy after leaving the factory, which is trusted by customers.
We are committed to providing users with stable and reliable equipment under long-term industrial use. The company has established agents in many countries and regions around the world, and our products are exported to more than 100 countries and regions Asia Afghanistan Bangladesh Brunei Cambodia DPRK (Democratic People's Republic of Korea) India Indonesia Japan Laos
Malaysia Maldives Mongolia Myanmar Nepal Pakistan Philippines ROK(Republic of Korea) Singapore Sri Lanka Thailand Timor-Leste Vietnam
Western Asia and North Africa Algeria Bahrain Egypt Iran Iraq Israel Jordan Kuwait Lebanon Libya Mauritania Morocco Oman Palestine Qatar Saudi Arabia South Sudan
Sudan Syria Tunisia Turkey UAE(United Arab Emirates) Yemen
Africa Angola Benin Botswana Burundi Cape Verde Comoros The Central African Republic Cameroon Congo Congo(Kinshasa) Cote d'lvoire Chad Djibouti Equatorial Guinea
Eritrea Ethiopia Gabon Gambia Ghana Guinea Guinea Bissau Kenya Lesotho Liberia Madagascar Malawi Mali Mauritius Mozambique Namibia Niger Nigeria Rwanda
Sao Tome and Principe Senegal Seychelles Sierra Leone Somalia
South Africa Tanzania Togo Uganda Zambia Zimbabwe
the European and Central Asian Region Armenia Azerbaijan Belarus Georgia Kazakstan Kyrgyzstan Moldova Russia Tajikistan Turkmenistan Ukraine Uzbekistan
the European Region Albania Andorra Austria Belgium Bosnia and Herzegovina Bulgaria Croatia Cyprus Czech Denmark
European Union Estonia Finland France Germany Greece Hungary Iceland Ireland Italy Latvia Liechtenstein Lithuania Luxembourg Malta Monaco Montenegro
Netherlands North Macedonia Norway Poland Portugal Romania San Marino Serbia Slovakia Slovenia Spain Sweden Switzerland United Kingdom
North America and Oceania Australia Canada Cook Islands Fiji Micronesia Niue New Zealand Papua New Guinea Samoa Tonga United States of America Vanuatu
Latin America Antigua and Barbuda Argentina Bahamas Barbados Bolivia Brazil Costa Rica Chile Colombia Cuba Dominica Dominican Republic Ecuador Grenada
Guyana Jamaica Mexico Panama Peru Suriname Trinidad and Tobago Uruguay Venezuela.
.
After 10 years of accumulation, we have obtained a number of product and technology authorized patents. The products have obtained European joint CE certification, US FDA certification, and passed ISO 9001 certification. They have a number of scientific research achievements, and have a number of invention patents and utility model patents.
We provide professional services. From product positioning and equipment manufacturing, our strength is outstanding, because we work harder and attentively, we spend more time communicating with customers` needs, and devote more energy to the design and design of each equipment manufacture
With many years of experience, we have many years of experience in the production of CNC equipment, serving thousands of companies, and rich experience in production and manufacturing. We use better technical services to ensure the safety and stability of each equipment, and solve every problem with more mature solutions.
service and support
In the early stage, the professional sales team will customize cost-effective production solutions for you.
In the mid-term, software and hardware pre-installation preparation, complete machine assembly, precision adjustment, software training, production and maintenance guidance.
In the later period, free operation training, regular customer return visits, and maintenance response time does not exceed 24 hours.
Free installation and debugging of new equipment, professional operation, use and maintenance training, complete equipment after-sales service system and training mechanism, free remote technical guidance and online Q&A, and 7 days * 24 hours local after-sales service response to ensure that Eliminate related problems in the operation of the equipment in a short time, provide professional and systematic training services to the factory, software use, equipment use, maintenance, common fault handling, etc., the whole equipment is guaranteed for one year under normal use and enjoy life-long maintenance services. Provide value-added services such as equipment function optimization, structural changes, software upgrades, and accessory supply
Packaging & Shipping & Payment
1) Packaging:
Whole film packaging machine;Anti-collision package edge;Fumigation-free plywood wooden box and pallets with iron binding belt.
2)Shipping:
We cooperate with SINOTRANS company whose experience in the ocean transportation will guarantee your machine safety.We also provide train transport, especially to Russia, Ukraine and other inland countries.
3) Payment:
We support T/T, L/C, VISA, Mastercard payment terms.
Warranty and Service
1.Guarantee for 1 years.
2.Maintenance free of charge for 1 years.
3.We will provide the consumable parts at an agency price.
4.24 hours online service, free technical support.
5.Machine has been adjusted before delivery, operation disk is included in the delivery.If there is any other questions, pls kindly tell me.
6.We have manual instruction and CD (Guiding Videos) for software Installation, operation and machine's using and maintenance.
Name der Firma: Jinan Jing Xun Cnc Equipment Co., Ltd
Vertreter: Niancheng Jiao
Produkt / Dienstleistung: CNC Router , Atc CNC Router , Wood CNC Router , Laser Cutting Machine , Fiber Laser Cutting Machine , Plasma Cutter
Kapital: US$5 Million
Jahr Errichtet: 2008
Absatzmenge des Jahres (in Mio. US $): US$2.5 Million - US$5 Million
Exportanteil: 51% - 60%
Jährliche Kaufvolumen (Millionen US $): US$1 Million - US$2.5 Million
Zahl der Fertigungslinien: 5
Zahl der Mannschaft der R&D: 11 -20 People
Zahl der Mannschaft der QC: 5 -10 People
OEM Dienstleistungen verbieten: yes
Größe der Fabrik (Sq.meters):: 30,000-50,000 square meters
Ort der Fabrik: Caiyuan Industrial Park, Licheng District, Jinan City, Shandong Province
Ansprechpartner: Mr. jiao nian cheng
Telefonnummer: 86-0086-13406418295