Hotel/hospital Fire Rated MgO Indoor Soffit Panels
| | |
| --- | --- |
| Zahlungsart: | L/C,T/T |
| Terms of Trade: | FOB,CFR,CIF,EXW |
| Minimum der Bestellmenge: | 924 Piece/Pieces |
| Lieferzeit: | 21 Tage |

| | |
| --- | --- |
| Verpakung: | 1.Strong plywood pallet 2.Strapped with PET rope 3.Protect corner & edges 4.PE film covered on the 6 surfaces |
| Produktivität: | 150,000pcs per month |
| Marke: | Support OEM |
| Transport: | Ocean,Land |
| Ort Von Zukunft: | China |
| Versorgungsmaterial-Fähigkeit: | 150,000pcs per month |
| HS-Code: | 6811899 681182 |
| Hafen: | Qingdao,Tianjin,Shanghai |
Produktbeschreibung
Shandong Lanchuang Economy and Trade Co., Ltd. was founded in 2012. We focus on MgO board business. We are the export agent of China Magnesite & Material Association, and the buying agent of Magnesium Oxide Cement Association(MOCA). We are a member company of Shandong Fairyland Infrastructure Group.Shandong Fairyland Infrastructure Group Co.,Ltd. has a history of 27 years in real estate development business.
In recent years,Shandong Lanchuang has organized our CMMA members to investigate the foreign markets in the US,Canada,Australia,Germany,Sweden and Japan,and has been connected with the governments,counterpart associations,research institutes and importing enterprises in these areas.At present,Lanchuang has established good economic and trade contacts with the US,Canada,Australia,Japan and Germany,and exported the products to some of the above regions. It has accumulated a high reputation and has been widely praised by the domestic and international circles.

China Magnesite Material Association(CMMA) is a national first-level association approved by the Ministry of Civil Affairs and established under the operational guidance of relevant ministries and commissions.
Business Scope: Industry Management, Information Exchange, Business Training, Journal Editor, Professional Exhibition, International Cooperation, Consulting Services etc.
CMMA Members are the national magnesia material production enterprises, the products enterprises with magnesia material as raw materials, the related materials production, equipment manufacturing, product circulation, users, scientific research institutes, design units, experts and scholars engaged in magnesite research and development.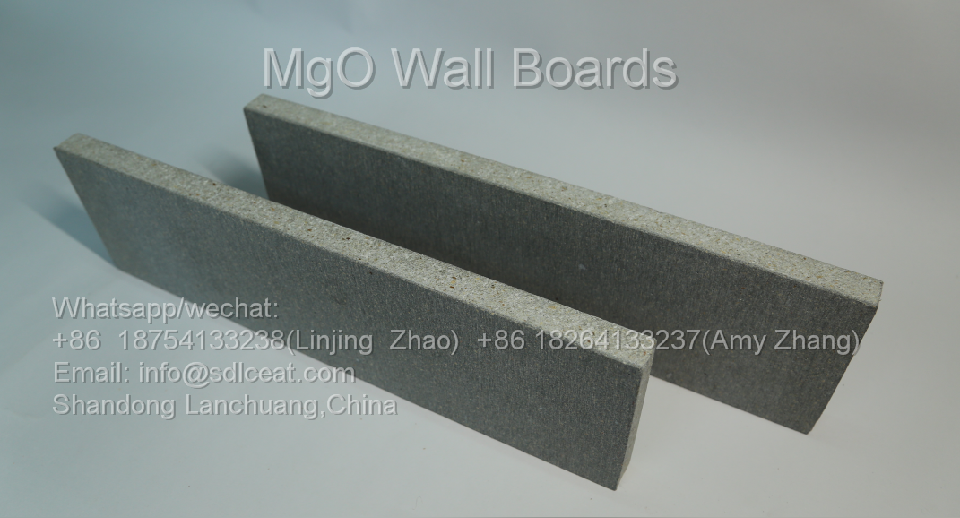 Fire: Non-combustible. Zero flame spread, zero smoke spread.
Water: Resistant to water damage, great for coastal conditions.
Mold: Resistant to rot & mold, has active anti-microbial properties
Insects: Resistant to termites & wood boring beetles.
Health: No VOCs, formaldehyde, glues, resins, toxins, asbestos or crystalline silica; zero"off-gassing". It has a very low vapor resistance making it ideal for use in "breathable"construction and helps to provide a healthier indoor living environment.
Thermal insulation: Thermal insulation R-Value of 2.00 per inch.
Sound: Excellent sound insulation.
Strength: Can be stronger than plywood, OSB, cement board, drywall or other sheet building products.
Impact: Extremely impact resistant.
Finishing: Readily accepts cement and acrylic stuccos, alkaline friendly paints and stains, baked on finishes. Can be bonded with urethane, cyanoacrylate, epoxy and other adhesives.
Environment: Waste of MgO board can naturally degrade in the soil. MgO is a nutrient for soil.
Easy to use: It can be sawn, cut, drilled, stapled, taped, glued. It is of high strength, and holds nails and screws firmly. No pre-drilling is necessary. Thin high strength board can be bent to fit any architectural design. It can be easily combined with honeycomb board, laminated with veneer, HPL and vinyl sheet.
Economic:The cost per sheet for the same thickness MagO is greater than regular gypsum but the same or less than specialty types and generally less than most Portland cement products, neither of which are as versatile.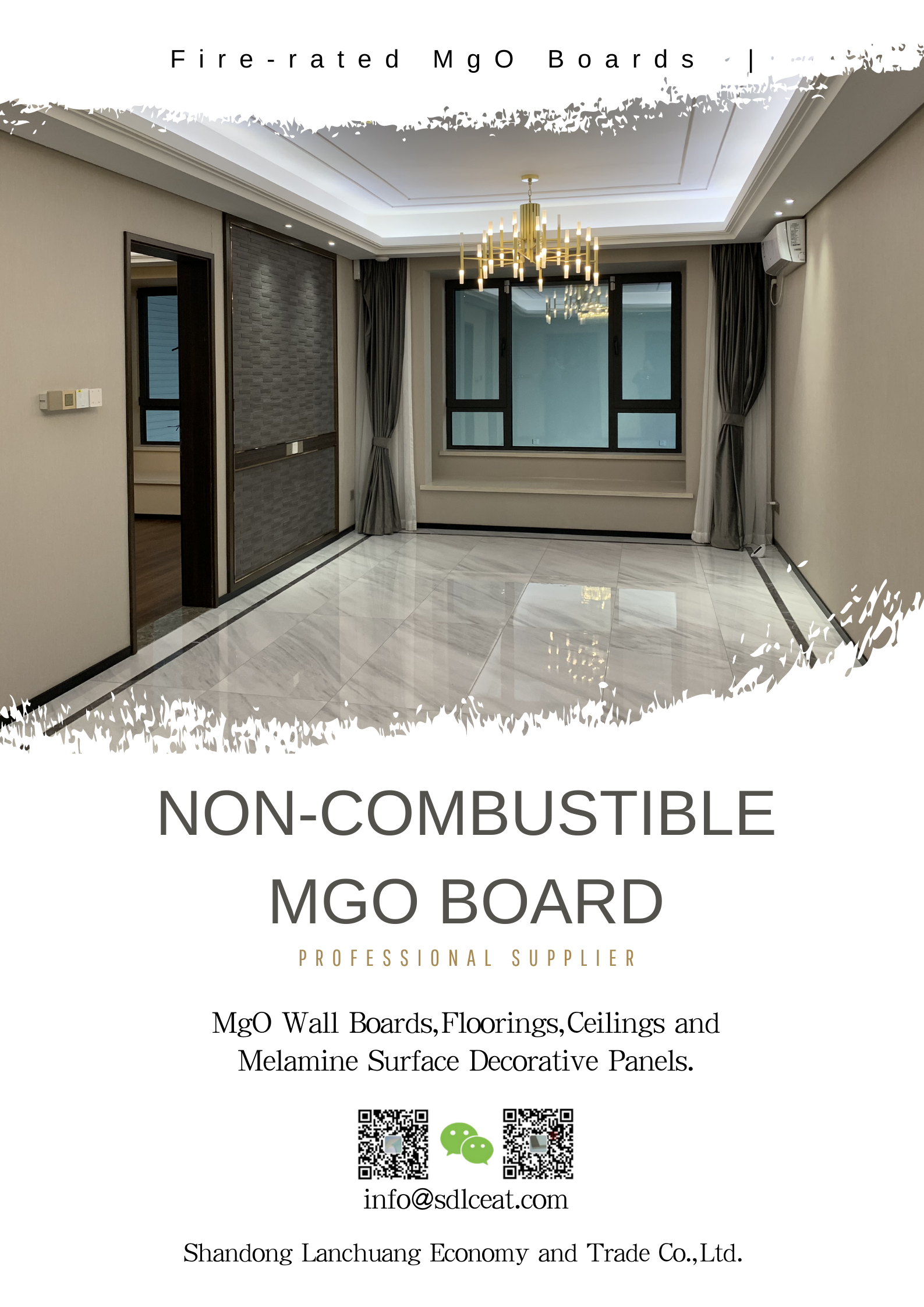 What is MgO Boards?
Magnesium Oxide Board also called Mgo board and fireproof board. It is an innovative mineral based environmentally friendly green building material.magnesium oxide board (Mgo board), is a new building material widely used in construction and decoration field. It's made from 100% natural materials, such as magnesium oxide and magnesium sulphate as the main raw materials, mixing perlite, fiber glass mesh & non-woven, saw dust in a certain proportion. It's free of harmful substances and eco-friendly. It has natural advantageous features like superior strength, fireproofing, waterproofing, thermal & sound insulation, easy installation, environmentally friendly, etc.

• It is the responsibility of the builder to ensure that the product meets aesthetic requirements before installation.
• Ensure that all boards are stored under cover and kept dry. If boards become wet they must be dried prior to installation.
• Our Factory will not be responsible for rectifying obvious aesthetic surface variations following installation.
• Carry boards in the vertical position as this will avoid bending and possible breakage.
• MGO Premium boards must be stored flat on a smooth surface. Precaution should be taken that edges and corners.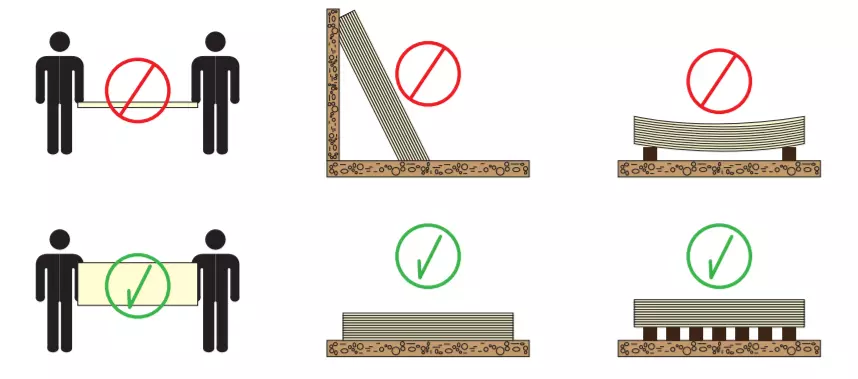 •
Green choice
•
Emp
owering
• Sustainable
•
Living
Underlayer Panels
Our products are highly energy efficient, non-toxic, and mould- and asbestos-free. Moreover, they are 100 per cent recyclable and they have a low carbon-footprint. Thanks to these "green" features, our products contribute directly to the sustainability of any project in which they are used.

1.Strong plywood pallet
2.Strapped with PET rope
3.Protect corner & edges
4.PE film covered on the 6 surfaces
MgO board is a strong, high quality, fire-proof, mineral-based building material used to replace plywood, fiber cement panels, OSB and gypsum wallboards. It is an extremely versatile product for use with interior and exterior construction. It is mading from bonding certain elements (including magnesium and oxygen) which results in an extremely strong cement-like material. Similar compounds have been used for construction purposes for hundreds of years in such world-famous sites such as the Great Wall of China, Rome's Pantheon, and extensively throughout one of the world's tallest buildings, Taipei 101.

Contact Us Right Now Freely !
Shandong Lanchuang Economy & Trade Co.,Ltd.
Add:Rm314,#1Building,Yiqu,Liangzhuangxinqu,Jianshe Road,Jinan,Shandong,China.
Office Tell:+86 0531 85188790 Fax:+86 0531 85188391
Whatsapp/wechat: +86 18754133238(Linjing Zhao) +86 18264133237(Amy Zhang)
Email: info at sdlceat.com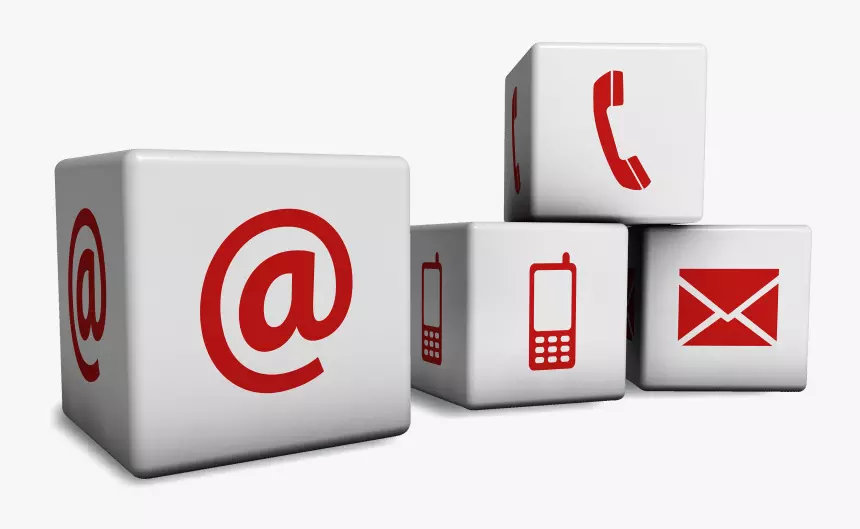 Shangdong Lanchuang Economy and Trade Co.,Ltd.
Shandong Lanchuang Economy & Trade Co., Ltd. wurde 2012 gegründet. Wir konzentrieren uns auf das Geschäft mit MgO-Boards. Wir sind der Exportagent der China Magnesite & Material Association und der Einkäufer der Magnesium Oxide Cement Association (MOCA). Wir sind ein Mitgliedsunternehmen der Shandong Fairyland Infrastructure Group. Handong Fairyland Infrastructure Group Co., Ltd. hat eine 27-jährige Geschichte im Immobilienentwicklungsgeschäft.
Shandong Lanchuang Wirtschaft und Handel Co., Ltd. ist das Exekutivunternehmen der China Magnesite Materials Association (CMMA). Es fungiert als Export- und internationale Austauschplattform für die Magnesitindustrie in China. Es wurde von CMMA zum Exportagenten für unsere Mitglieder ernannt. Shandong Lanchuang Wirtschaft und Handel Co., Ltd. ist verantwortlich für den internationalen Austausch, das Andocken von Ressourcen und den Produktexport für CMMA-Mitglieder. Unsere Produkte für den Export sind neue umweltfreundliche Baumaterialien, die von MGO BOARD vertreten werden.
In den letzten Jahren hat Shandong Lanchuang unsere CMMA-Mitglieder organisiert, um die Auslandsmärkte in den USA, Kanada, Australien, Deutschland, Schweden und Japan zu untersuchen, und war mit den Regierungen, Partnerverbänden, Forschungsinstituten und Importunternehmen in diesen Bereichen verbunden. Derzeit hat Lanchuang gute Wirtschafts- und Handelskontakte mit den USA, Kanada, Australien, Japan und Deutschland geknüpft und die Produkte in einige der oben genannten Regionen exportiert. Es hat ein hohes Ansehen erlangt und wurde von nationalen und internationalen Kreisen weithin gelobt.
Als Mitglied der Shandong Fairyland Infrastructure Group, Shandong Lanchuang Economy und Trade Co., Ltd. ist die Plattform für die Integration von Wirtschafts- und Handelsgeschäftsressourcen des Konzernunternehmens. Seit seiner Gründung hält das Unternehmen an der Geschäftsphilosophie fest, seinen Kunden einen kontinuierlichen, qualitativ hochwertigen Service und hochwertige Informationen zu bieten, und an unserem aufrichtigen Unternehmensgeist Engagement, Pragmatismus und Innovation.
Name der Firma: Shangdong Lanchuang Economy and Trade Co.,Ltd.
Vertreter: Xiaojing Yang
Produkt / Dienstleistung: MgO Außenwandplatte , MgO Innenwandplatte , MgO Deckenplatte , MgO-Bodenbelag , MgO-Dekorplatte , MgO Board
Kapital: 10,000,000RMB
Jahr Errichtet: 2012
Absatzmenge des Jahres (in Mio. US $): Below US$1 Million
Exportanteil: 91% - 100%
Jährliche Kaufvolumen (Millionen US $): Below US$1 Million
Zahl der Fertigungslinien: 1
Zahl der Mannschaft der R&D: 5 -10 People
Zahl der Mannschaft der QC: 5 -10 People
OEM Dienstleistungen verbieten: yes
Größe der Fabrik (Sq.meters):: 30,000-50,000 square meters
Ort der Fabrik: Jiangsu Province,China
Ansprechpartner: Ms. Amy Zhang
Telefonnummer: +86-0531-85188790